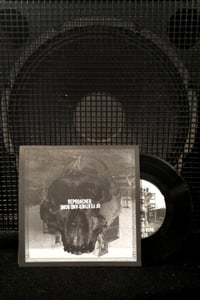 $

5.00
Ask dad where he put the old hi-fidelity turntable. Ten or so minutes of fun with our Coloradoan pals Of Feather and Bone (offeatherandbone666.bandcamp.com). Recorded in late 2013/early 2014, and released through Crown & Throne Ltd (crownandthroneltd.bandcamp.com). Please check out both of these groups. 4 tracks on 2 sides, black vinyl. Includes free digital download.
Side 1
1. Disbelief in the Absolute - Of Feather and Bone
2. The Endless Tide - Reproacher
Side 2
3. Shrouded Specter - Reproacher
4. Hunted - Of Feather and Bone
Reproacher tracks recorded by Dave Otero at Flatline Audio. Of Feather and Bone tracks recorded by Andy Patterson at The Boar's Nest. All tracks mastered by Brad Boatright at Audiosiege Engineering. Layout and construction by Aaron D.C. Edge.